Data Recovery Lab Locations Worldwide
CBL offers services through its global network of data recovery laboratories, offices and authorized partners. With data recovery facilities in over 13 countries, customers worldwide receive the same quick, professional, and cost-effective services from CBL.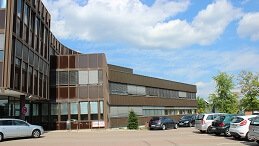 Kaiserslautern Main Lab
CBL
Datenrettung GmbH Von- Miller- Str. 13 D- 67661 Kaiserslautern 0800 55 00 999
Other International Labs
For international inquiries please find a CBL facility closest to you or visit one of our worldwide websites for information pertaining to your area.
Asia
China – Guangzhou
CBL (China) Service Center
Mei Hua Lu 8 Hao, He feng ya ju, 1305 fang
Yangji, Guangzhou
Guangdong, China 510600
Tel.: +886-02-2700-0010
h4. Hong Kong
DataSure
Suite 1202 , Level 12 , 1 Peking Road , Tsim Sha Tsui , KLN.
Hong Kong
Tel: +852-21162727
India – Mumbai
CBL Data Recovery Technologies India Pvt Ltd
No 10, Sadanand CHS
St. Anthony's Street
Kalina, Mumbai
400098
India
Tel.: +91 22 26651499
Indonesia
TCOM – First Responder Center
Jl. Pangeran Jayakarta, Kompleks 32 No.32M
Jakarta Pusat. – Indonesia
Tel.: 021-6230 4577
Nusa Mega – First Responder Center
Jl. Sabaruddin 11BB
Medan – 20214
Sumatera Utara – Indonesia
Tel.: 61 7349800
Japan – Tokyo
CBL Data Recovery Japan
7F Toranomon 40MT Bldg.
5-13-1, Toranomon, Minato-ku.
Tokyo
105-0001
Japan
Malaysia
Teknologi Pemulihan Data CBL Inc.
No. 121 – 2, Jalan PJU 1A/41B,
NZX Business Centre, Ara Damansara,
47301 Petaling Jaya Selangor
Taiwan – Taipei City
CBL Data Recovery Taiwan Co., Ltd.
6F 71 Sinyi Rd. Sec 4
Da-an District,
Taipei City 106
Taiwan (R.O.C.)
Tel.: 886-2-2700-0010
Australia
Melbourne
CBL Data Recovery
170 Oban Road
Ringwood North
Victoria 3134
Australia
Europe
France – Paris
CBL Technologies de Récupération de Données
42-44 rue de Londres
75008 Paris
France
Tel.: +33 (0)1.76.74.77.35 Web: www.cbltech.fr
Germany – Kaiserslautern
CBL Datenrettung GmbH
Von-Miller-Str. 13
Buero E53
Kaiserslautern, D-67661
Deutschland
Tel.: (0631) 342 890 Web: www.cbltech.de
United Kingdom – Newcastle
CBL Data Recovery Technologies Ltd.
Royal Quays Business Exchange, Suite 5, Floor 2
Coble Dene, Royal Quays
North Shields, Tyne & Wear
England NE29 6DE
Tel.: +44 191 296 0562 Web: www.cbldatarecovery.co.uk
North America
Canada – Toronto
CBL Data Recovery Technologies
590 Alden Road
Markham, ON
L3R 8N2